Auto Accidents and Workplace Injuries
The Effects of an Automobile Crash on the Body
If you're having your car checked out after an accident, it's a good idea to have your body looked at, too.Dr. Campbell
Dr. Campbell holds an Advanced Certificate of Competency on whiplash and brain injuries from the Spine Research Institute of San Diego and has been steadfastly focused on helping people suffering from injuries due to auto accidents since 1988. Using an array of spinal rehabilitation techniques, he is still dedicated to this field today.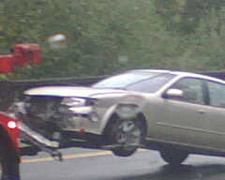 When involved in a crash, your muscles are not able to react quickly enough to withstand the inertia of your body parts flailing around in the vehicle. Because of this, ligaments often bear the brunt of the punishment. Whiplash is the common word to describe injuries to the neck and head.
The nerve-wracking part? Minor resulting aches and pains tend to go ignored, eventually developing into long-term, painful problems. While the aftermath consists of many immediate inconveniences, such as dealing with your insurance company, locating a reputable collision repair shop, and worrying about finances, your health should not take a backseat.
The following are some of the symptoms that may signify more severe conditions that need attention:
Headaches
Neck pain
Back pain
Memory difficulties
Fatigue
Numbness or tingling in arms or legs
Sleep problems
Muscle spasms
Trouble concentrating
If you or a loved one have been involved in an auto accident, contact us today as Dr. Campbell has experience and training caring for car accident injuries. He will make referrals as needed. Parkside Back & Neck Care is well-versed in insurance billing and wants to help you on your road to recovery. Do not hesitate to contact us today.
Helping You Recover After an On-the-Job Injury
If you've sustained a work-related injury, Parkside Back & Neck Care wants to help you. Our office offers chiropractic care, massage therapy, and lumbar decompression to reduce your pain and get you back to work as soon as possible. Our team can help you open a claim, take the necessary time off, and obtain activity prescription forms that allow light duty work and simultaneous recovery. As on-the-job injuries can be devastating, we are here to help you manage the stress of pain and understand the complexity of industrial insurance.
Get back to living your life and feeling your best with our help. Contact us today to book your visit!
Contact Us

---
Lynnwood Auto Accident Workplace Injury Treatment | (425) 776-8787